EXTERIOR
INTERIOR
LIGHTS
PERFORMANCE
SUSPENSION
BRAKES
DRIVETRAIN
AUDIO
WHEELS
GARAGE
Rota Boost Gunmetal

SALE $178.95
For each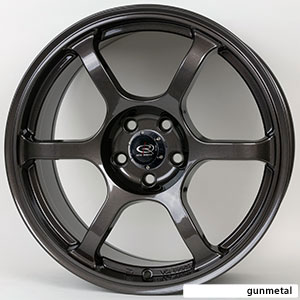 Video Description:


In this video, we explain the proper way to attach your wheels to your car. Highlights include:

*At 0:16, we explain factory torque specifications.

*At 0:30, we explain why overtightening your lug nuts is a bad thing.

*At 0:56, we go over the proper way to torque your lug nuts with a torque wrench.

*At 1:27, we show you another option, torque sticks.

Video Description:


In this video, we show you how going the extra mile by adding custom color to your wheels can really make your ride stand out. Highlights include:

*At 0:35, we get right to work and show you how we media-blasted our new wheels to remove the original finish.

*At 1:02, the wheels are hung and the powder coating applied.

*At 1:45, we talk about how the candy finish is achieved.

*At 2:17, we talk about the many colors and finishes available with powder coating.

Video Description:


In this video, we take some of the mystery out of choosing the proper aftermarket wheels for your vehicle. Sizes, widths, and offsets are discussed, with highlights including:

*At 0:29, we talk about bolt patterns.

*At 0:38, we discuss wheel widths and backspacing. At 0:46, we go over wheel diameters.

*At 1:00, we show you how to shop for wheels on AndysAutoSport.com.

*At 1:23, we talk about choosing wheels that are a different size than your factory wheels.
Fits On:

05-09 Spectra (non-5 Model), 90-92 Stanza, 04-06 Optima, 02-06 Sentra SE-R, 92-96 J30, 90-94 Scoupe, 01-03 Optima, 97-02 Tibur... See more

Description:
Rota Boost Gunmetal
Rota is the leading wheel brand from Philippine Aluminum Wheels Inc. The Rota name is well-known by motorsports fans worldwide thanks to great quality, excellent performance and aggressive aesthetics. With over 30 years of experience Rota wheels have proven themselves in all venues from the city streets to race tracks all over the world. With an exhaustive construction process that includes technically advanced casting methods and a rigorous inspection of the finished product, Rota aluminum wheels are second to none in the aftermarket community. In addition they offer great warranties and expert customer service that has earned them an extremely loyal following. For grassroots enthusiasts who demand a professional wheel, Rota is a great place to start.
Q: What is the best size of rims for me to buy for my vehicle?
A: This sometimes is the most daunting question that buyers face. On one hand you want rims that are big enough to give your vehicle a clearly custom look that differentiates your ride from others on the road. On the other hand, you don't want the wheels to be so big that the only way to stuff them under your fender wells is to use ultra skinny tires and thereby affect your ride quality. In our experience, a safe rule of thumb is that you can comfortably increase the size of your wheels by up to 3 inches from the factory size without it impacting ride quality negatively. So if the factory wheels on your vehicle are 14 inches in diameter, you can comfortably get rims that are up to 17 inches in diameter without negatively affecting ride quality. Of course, you are welcome to go much bigger than that, but in doing so you might be making a sacrifice in ride comfort unless you modify your vehicle in other ways to 'handle' the big rims better.

Q: Are the wheel prices listed on the Andy's website for four wheels, or for each individual wheel?
A: For every wheel we sell, the price is for each individual wheel. So in the likely event that you want four wheels, make sure to adjust the quantity to "4" in the shopping cart after you've added your wheel of choice to the shopping cart.

Q: How does Andy's know which wheels will fit my vehicle?
A: We set up some sophisticated database functions to compare fitment information against wheel product information. We take the factory wheel and vehicle specifications of a given vehicle, and use those to determine the range of sizes that would comfortably work for that vehicle. We then load the wheel product data from a given brand of wheels to our database, and within our database we built functions that automatically calculate which wheels meet the fitment criteria of a given vehicle. It's all pretty scientific and mathematical, but by the time you open the Andy's webpage showing the wheels we carry for your vehicle, all that computing has already been done for you and you can rest assured any wheel we list for your vehicle is guaranteed to fit!

Q: Do the wheels listed on the Andy's website come with tires?
A: No they do not. Tires are sold separately in the 'Tires' category of our website. If you are buying wheels that are the same size as the wheels already on your vehicle, then it won't be necessary to get new tires anyway.

Q: How can I find out the size of wheels that are currently on my vehicle right now?
A: To find out the size of the wheels on your vehicle, you can actually look at your tires. There is a reading on your tire that looks like this: 225/45R15. The last two numbers (15 in this example) indicate the diameter of the wheels on your vehicle.