EXTERIOR
INTERIOR
LIGHTS
PERFORMANCE
SUSPENSION
BRAKES
DRIVETRAIN
AUDIO
WHEELS
GARAGE
TC Sportline Carbon Fiber Hoods - OEM Style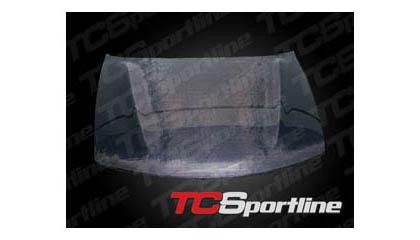 Video Description:


Everything you need to know about hood pins in one video! In this video, we show you:

*At 0:19, we explain why you need hood pins with an aftermarket hood.

*At 1:30, we tell you about the different types of hood pins available.

*At 2:26, we show you the steps necessary to install a set of hood pins on our project Integra.

Video Description:


Heatshield Products keep your engine compartment safe, and can even help protect your vehicle's finish. In this video, we show you how installing a heat shield on your hood can prolong its life and new appearance.

*At 0:42, we get right to installing a Heatshield Products Lava Shield on our project Integra's hood.

*At 2:02, we show you how much cooler our hood's surface is after installing our heat shield.

Video Description:


Installing an aftermarket hood can be tricky, but we walk you through it in this video.

*At 0:20, we remove our factory hood.

*At 1:00, we install our new carbon fiber hood.
Fits On:

Description:
TC Sportline Carbon Fiber Hoods - OEM Style
TC Sportline has gained a reputation for making quality parts after having been in the industry for a number of years. Their exclusive carbon fiber hoods provide innovative styling for your vehicle.
Q: How do you install a carbon fiber hood?
A: Carbon fiber hoods are usually OEM fit and finish which means un-bolting your factory hood and replacing it with the new lightweight carbon hood. Little to no modification is needed to get these to fit properly, and they often come with OEM metal latches for an easy installation. Nevertheless, hood pins are recommended for use with all carbon fiber hoods.

Q: Why buy a carbon fiber hood?
A: Carbon fiber hoods give cars a fantastic custom race look that is very popular. Carbon fiber hoods come with a clear gelcoat that allows you to see the clean weave of the carbon fiber and that makes it so you don't have to paint your hood. Additionally, carbon fiber hoods are almost always lighter than factory hoods, so they can help you improve performance. Vented carbon hoods are a great option because they relieve your engine of trapped heat, are lighter weight than factory hoods, and give your car a race car appearance.

Q: Will I have to paint my carbon fiber hood when I receive it?
A: No. In fact, for a lot of people the whole reason for buying a carbon hood is to get that new-age cutting edge race look. The hood has a clear-coat finish and can literally be installed on your car out of the box. Because carbon hoods are made to be installed without painting, they are often a more affordable option than fiberglass or steel hoods after you account for the paint cost. (For anyone who really wants to paint a carbon hood, it is indeed possible since the clear coat finish responds well to primer.)

Q: Are there different "grades" or qualities of carbon fiber hoods?
A: Yes. The terms carbon is used loosely. Some companies make the entire hood (skin and skeleton) out of carbon. This is rare since carbon is an expensive material. Some manufacturers make the hood skin out of carbon, and make the skeleton out of fiberglass. Some companies make their hoods out of fiberglass, and paint it to look like carbon fiber, but call them carbon fiber hoods (but of course, they are just a carbon look, not actual carbon fiber). To know what "grade" a carbon hood is made of, look for details in the product description or manufacturer description.

Q: The hood I'm considering buying from Andy's is vented and has openings in it that appear to expose it to rain. Should I be concerned about that? Will it be harmful to my vehicle if rain goes through those vents into my engine bay? Is there a way to protect against that from happening?
A: Adding guards could potentially defeat the purpose of a vented hood, which is to help cool your engine bay. Some customers do get creative and add their own diverters under the hood for a custom solution to the perceived problem, but you would have to figure out how to attach them and whether there's room under the hood in the first place. That being said, we have never heard of any problems running a vented hood as-is, and we've done it ourselves for many years without any issues to speak of.

Q: Do you have to buy hood pins if you buy a carbon fiber hood?
A: Hood pins are not necessary when buying a carbon fiber hood if it comes with an OEM metal latch, but we do recommend them as a safety precaution. They are sold separately on our website. If the carbon fiber hood does not come with a latch, hood pins are mandatory to be able to close your hood. We always suggest buying hood pins when purchasing any light-weight hood for peace of mind; you don't want any chance of your hood flying into your windshield while you're cruising along on the highway!