EXTERIOR
INTERIOR
LIGHTS
PERFORMANCE
SUSPENSION
BRAKES
DRIVETRAIN
AUDIO
WHEELS
GARAGE
Weathertech Sunroof Deflectors - Sunroof Wind Deflectors (Dark)

SALE $68.95
For each
Deflectors Type : Sunroof Deflectors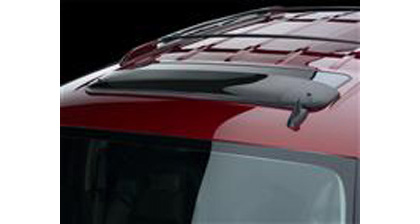 Video Description:


This episode of Andy's Auto Sport TV is an overview video about side window deflectors. We explain the difference between in-channel deflectors and the stick-on type. We also show how easily they install and explain the numerous benefits you get from using deflectors.

Video Description:


In this video, we show you how hood deflectors, or "bug shields" as they are often called, can be a stylish way to protect the front end of your vehicle from road debris and, yes - bugs! Whether your vehicle is new or old, you'll learn how a hood deflector can freshen up your front end and keep new damage from occurring. Video highlights include:

*At 0:43, we quickly install a Westin hood deflector on our project Toyota 4Runner.
Fits On:

2008-2012 Nissan Pathfinder
Description:
The WeatherTech Sunroof Wind Deflector gives you an excellent reduction of in-cabin wind noise and air turbulence! It is crafted in Germany from the finest 4mm thick, tinted cast acrylic. Our sunroof deflector fits the sunroof opening precisely, and is held securely in place with the MagiClip vehicle specific fastening system. To protect your vehicle's finish, the unique AirCushion gasket seals the edge of the deflector. WeatherTech Sunroof Wind Deflector's sleek and sophisticated look is a great addition to any vehicle. Let the fresh air in

The WeatherTech Sunroof Wind Deflector is manufactured to fit factory installed sunroofs and is not intended nor guaranteed to fit aftermarket installations.
If it carries the Weathertech logo, you can rest assured that it's among the best accessories you can purchase for your vehicle. By designing and manufacturing all of its products in-house right here in the United States, the folks at parent company MacNeil Automotive are able to ensure that each and every Weathertech accessory is of the utmost quality. As suppliers to many OEMs (including the Big Three of Germany), Weathertech and MacNeil Automotive are tough to beat.
Q: What is a rear window deflector? Why buy one?
A: Rear window deflectors are designed to keep your rear window clear of road grime. Available in clear, smoke and sometimes carbon fiber, you get protection with style.

Q: How do you install a rear window deflector?
A: Minor drilling is usually required for the install, but deflectors come with all the manufacturers' hardware and instructions.

Q: How do you install a hood deflector?
A: Hood deflectors are easily mounted using double-sided 3M tape in most cases. With no tools needed, installation takes minutes.

Q: What is a hood deflector? Why buy a hood deflector?
A: A hood deflector is engineered to keep insects from smacking into your windshield and hood, and designed to give your car a custom look. Usually made out of tough materials, they shield rocks, gravel and other debris from colliding with your hood, fenders and windshield. They're built from rugged materials such as high-impact acrylic plastic.

Q: What are side window deflectors? Why buy side window deflectors?
A: Window deflectors move air around the side windows, drawing stale air out of the vehicle while increasing the efficiency of the heater or air conditioner. Your interior is also protected from any debris that might come in the car while your windows are open. Fresh air can be had in all weathers, even when it rains. Additionally, they give your car a custom look.

Q: How do you install side window deflectors?
A: Window deflectors are installed using 3M double-sided adhesive tape. Installation can be done in minutes with no tools required.